LIVE! from Kansas City, Missouri, Hell in a Cell makes an appearances early! With the Hell in a Cell Pay-Per-View 6 days away, how did the Hell in a Cell play a role in the show? What did Rollins and Ambrose say and do to each other? Did Cena and Orton's decade long rivalry reach it's crescendo? What about Rusev and his hatred for America, did it result in the assault of an innocent civilian? Let's take a look!
The Authority Opening Segment:-
The entire Authority, minus Stephanie McMahon make their way down to the ring. Triple H begins his speech by plugging Hell In a Cell. Triple H mentions the destruction of the match and how hell is literally hanging above them. Having won the most Hell in a Cell matches, Triple H says that he understands this match isn't one you win, but a match you survive. Seth Rollins gets the mic and says that as good as "Mister Money in the Bank" sounds, "The Undisputed Future of the WWE" sounds just as good. Orton grabs the mic from Rollins and says the real main event of Hell in a Cell is between 2 guys who've been in the WWE longer than a cup of coffee. Oh, and Orton also got some cheap heat and threw in his opinion on the World Series bound Royals. Triple H then intercepts the two and announces that the winner of the Hell in a Cell match between Orton and Cena will receive a title shot against Brock Lesnar. Triple H concludes by saying that he is not doubting that every member of the Authority will make him proud.
Highlight of Sandow dressed as Sheamus from Main Event Airs
The Usos/Sheamus vs. Miz/Gold & StarDust:
- It is extremely frustrating to continually see essentially a SmackDown! rerun on RAW. We saw this match just this past Friday, it's just lazy booking. Big difference was that Miz allowed MizDow to replace him for the match, which the audience liked.The overall match was good, with Stardust and an Uso beginning the match and a lot of athleticism to begin the match. That pace kept up until all competitors were flying to the outside, trying to take each other out. It seemed as though Sheamus defeating MizDow was near but after a distraction from Stardust, MizDow rolled up Sheamus for the three count. Miz lost his mind from the happiness of the big victory.
Winners:-
Damien MizDow/ Gold & Stardust
Randy Orton/Triple H Backstage:-
Orton comes in and assures Triple H that he will make him proud and win the Hell in a Cell match against John Cena. Triple H says he does not doubt Orton at all an that Seth Rollins had a good idea in adding that stipulation to the match, to which Orton looks on in surprise. Upon finding that out, Orton tells Triple H he wants to go thank Rollins in person.
Wyatt Family promo airs
AJ Lee vs. Alicia Fox/ Paige:
- A very acrobatic start to the match as AJ hits a ton of hurracanrana's, spinning head scissors and victory rolls on Alicia. The match goes a bit longer than a divas match usually does and was going pretty even until a distraction from Paige distracted AJ. That allowed Alicia Fox to roll up AJ for the win.
Winner:-
Alicia Fox
Seth Rollins and Randy Orton backstage:-
Orton walks in on Rollins admiring his briefcase and gives him an insincere thank you for suggesting the stipulation to Triple H. He proceeds to tell Rollins that he can take care of himself and to stay out of Orton's business.
It is announced that Hulk Hogan will be on RAW after the show ends LIVE on the WWE Network to give his predictions on the 2 main events at Hell in a Cell.
Randy Orton/John Cena/ Paul Heyman Segment:-
Orton is out first and talks about his decade long rivalry with John Cena. The crowd is still hot at Orton's previous comments regarding the Royals and Orton qucikly changes pace and proceeds to insult the Royals some more and how they will never be champions. Too much focus on the World Series today and using the Royals for cheap heat. This brings out John Cena who refers to Orton as a "dumbass" multiple times. He refers to the Royals being terrible in 2002, the last time Orton was relevant and how he will lose at Hell in a Cell. This brings out Paul Heyman who hypes his beast, the WWE World Heavyweight Champion, BRRROOCCKK LESSSNAARR! Heyman says that 2002 is still relevant because things never change because in 2002 and 2014, Lesnar is the WWE World Heavyweight Champion. Entering the ring, Heyman gets in Orton's face and tells him he wants no part of his client, and then the same goes for Cena. Cena picks up Heyman for an AA but for some reason, puts him down and then eats an #RKOOuttaNowhere from Orton. This brought joy to Heyman's face untul he ate an #RKOOuttaNowhere as well! Orton taunts the crowd as the segment ends. A really great segment which seemed to make Orton look strong as possible, as he should be.
Rusev w/Lana vs. Big E:-
A rare singles match for Big E who looked pretty good in his first match on RAW in what seems like forever. It's stll quite clear that Rusev is very green and needs to work on his in-ring ability. Big E dominated a decent portion of the match until Rusev connected with his spinning heel kick and locked in The Accolade for the victory.
Winner:
Rusev (via submission)
Rusev/Lana/Big Show Post match:-
After the match, Lana and Rusev trash talk the Big Show and tak about him losing at Hell in a Cell. Then on cue, the Russian flag that is usually unveiled above the ring after a Rusev victory did not reveal itself. Instead, a large flag of the United States showed itself as Big Show was smiling on the titantron.
Rusev attempted to rip the American flag off until an unidentified U.S. Military man ran into the ring but ate a big foot from Rusev, knocking him out cold and busting him open. This brought out a speechless and angry Big Show who said he will defeat Rusev and called him out. After Rusev did not show, Big Show went backstage to find him, to no avail.
Dean Ambrose and John Cena Backstage:-
Ambrose is sitting and eating popcorn, watching the new See No Evil 2, featuring Kane. A surprised John Cena walks in curious as to what Ambrose is doing. Studying the new See No Evil 2 movie featuring Kane since they are facing him tonight was Ambrose response. Cena says they have to focus and Ambrose makes the comparison of their tag team being Superman (Cena) and Ambrose (Batman) and how they are going to destroy The Authority and Cena says Ambrose is more like the Joker. Ambrose responds with a "Why so serious>" Hilarious stuff.
Summer Rae vs. Brie Bella:
- An awful match and it's so awkward watching Brie Bella attempt to wrestle like her husband Daniel Bryan. Awful screams, sloppy dropkicks and terrible timing. She does her supremely talented but injured husband no justice but Brie Bella did win.
Winner:-
Brie Bella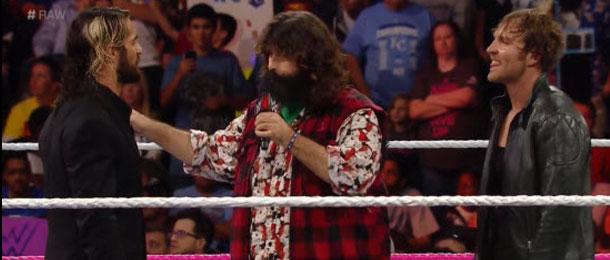 Seth Rollins/Dean Ambrose/Mick Foley Segment:-
Dean Amborse opens the segment by bringing a huge bag to the ring, containing a bunch of equipment, but most importantly a Seth Rollins dummy. Ambrose seats the dummy and makes fun of it as if it were actually Rollins and using items such as hammers, screwdrivers and saws for comedic effect. The crowd didn't seem to be into this segment all that much, despite being very entertaining. Seth Rollins came out next and cut a lengthy promo on Ambrose and the crowd before the return of WWE Hall of Famer, Mick Foley. Foley got a very nice ovation and that seemingly woke the crowd for a bit. Foley discussed how his life is described in 2 stages, pre cell and post cell and how that matched changed his life. He warns both men to be ready and that in almost every vision, he sees Rollins coming out on top, except one vision that includes Hell in a Cell. Ambrose chases off Rollins and the stooges, Joey Mercury and Jamie Noble. Such a great segment, but the crowd ruined it.
Cesaro vs. Dolph Ziggler:-
With this match seemingly all but confirmed for the Pay-Per-View, it was surprising to see these two in a match. It wasn't a long match but a very entertaining one. Several highly athletic moves executed by both men and Cesaro really stepping up. The ending came when Cesaro caught Ziggler with a vicious uppercut for the victory. It seems that now, the match for the IC title at the Pay-Per-View is just a formality as Cesaro assaulted Ziggler post match.
Winner:
- Cesaro
Seth Rollins/Randy Orton/Kane/Triple H Backstage:
- Backstage, we see tonight's main event trio in the Authority arguing until Triple H steps in and announces that because of Rollins and Orton's bickering, Kane will be the leader tonight during their match. They continue arguing until Kane steps in and yells at Orton/Rollins to put aside their differences so that the destruction of Ambrose/Cena can take place properly tongith.
Seth Rollins/Kane/Randy Orton vs. John Cena/Dean Ambrose (Street Fight):-
A really fast start to the match as a brawl breaks out between all 5 members until Ambrose does his patented flying elbow off of the top rope, taking everybody out. When the match officially begins, a methodical, slow and deliberate pace consumes the competitors. Seth Rollins works over Ambrose and Orton continues until Ambrose lands a missle dropkick to Orton, turning the tide. Ambrose gets the hot tag on Cena who comes in and cleans house, including an AA to Kane. Cena sneaks out the ring to get a table and sets it up in the ring to put Rollins through but to no avail. A lot of weaponry such as steel steps, chairs and tables come into play. The numbers game catches up to Cena and Ambrose as The Authority begins to dominate them both. Kane throws Cena into steel steps and then through a table inside the ring and orders the cell to be lowered and it is.
Cen gets the hot tag to Ambrose who crossbodies the entire Authority and then gets the upper-hand on Randy Orton. Ambrose get's a table and a kendo stick...and a chair. He first uses the kendo stick to wear out Orton and then takes out Kane and Orton with a chair. Ambrose continues his onslaught until hes neutralized and ends up alone with Orton in the ring and get s an #RKOOuttaNowhere for the victory!
Winners:
The Authority
Seth Rollins comes out of nowhere (no pun intended) and hits Orton with a curb stomp. The last image we get on the night is Rollins on top of the Cell. An amazing main event and an overall solid RAW!
RATING:-
7.5/10