Dean Ambrose, John Cena, Triple H, Stephanie McMahon Opening Segment:-
Dean Ambrose kicks off the show and grabs the microphone. He discusses his upcoming match with John Cena and how he plans on making Seth Rollins pay and how he will defeat John Cena. Cena's music hits and out he comes to a loud ovation. We get the usual "wow, what a lively crowd" bit from Cena who then turns his attention to Ambrose and offers him some simple "veteran advice."
"Shut up, and take these 2 weeks to prepare for the biggest match of your life," Cena said.
This brought out The Authority, Triple H and Stephanie McMahon who discussed the upcoming Hell in a Cell pay-per-view and plugged the WWE Network. They proceeded to make a bet, with HHH saying that there is no way that the 2 of them can co-exist and Stephanie saying that they could. Therefore, coming up next, Stephanie McMahon announced a triple threat tag team match with Cena and Ambrose teaming up to take on The Uso's and Gold & Star Dust.
John Cena/Dean Ambrose vs. Gold & StarDust vs. The Uso's:-
The match saw a lot of back and forth action between all three teams. Considering that this match seemed to be thrown together last minute and how Ambrose/Cena were thrown in between the tag team champions and challengers feud. The ending was fast paced and intense with Cena and Ambrose doing top rope dives to the outside, getting the crowd excited. Ambrose threw Cena and Goldust, the two legal men into the ring as Cena and Ambrose both ended up giving their finishers to Gold & Stardust for the victory.
Winners:- Dean Ambrose/John Cena
Post Match Triple H Promo:-
Triple H and Stephanie McMahon made their way back out after the match and Triple H admitted he was wrong and paid Stephanie the money he lost via their bet. (It was 1 dollar, maybe Rock was right and he is a cheap bastard). Anyways,, Triple H then gets really heated and makes the Hell in a Cell No Holds Barred Contract on a Pole match between John Cena and Dean Ambrose for tonight!
AJ Lee/ Layla vs. Paige/Alicia Fox:-
A brief tag team match that needed to help prolong the AJ/Paige feud. Also, the feud continued AJ's search for a competent tag team partner. This time, her search led her to the beautiful Layla, who proceeded to walk-off mid match. After winning the match with a shining wizard AJ chased down Layla and threw her against the barricade twice before skipping off.
Winner:
AJ Lee
Randy Orton, Triple H, Stephanie McMahon Backstage:-
Randy Orton walks in on Stephanie and Triple H talking and says that if Seth Rollins is the future, the future is a long time away. Orton proceeds to ask The Authority to face the loser of the Dean Ambrose vs. John Cena match at Hell in a Cell. Triple H agrees.
Dolph Ziggler vs. Randy Orton:-
This match lasted a lot longer than most people would have thought. A highly competitive match for both men and both men looked great. The only problem is that Ziggler is supposed to be the Intercontinental Champion but he keeps losing on television. You can always make the case that he at least look great with the performance but a great performer also needs a few wins just to look strong. If he is scheduled to face Cesaro for the Intercontinental title at Hell in a Cell, it's hard to convince the audience that he has that strong a shot of retaining. Nevertheless, Orton wins the match with a wicked RKO, catching Ziggler mid-air in a powerbomb position and throw him up and catching him with an RKO on the way down. The funny part was Ziggler didn't flip over on his back and Orton fell down to pin Ziggler who was still down face first. After a second of confusion, Orton flipped Ziggler over and pinned him for the win. You could see Ziggler and Orton exchange words after the match.
Winner:-
Randy Orton
Orton/Rollins/Ziggler Post Match:-
Seth Rollins, who came out mid-match made his presence felt as he came into the ring and proceeded to curb stomp Dolph Ziggler as a statement to Orton.
Seth Rollins vs Jack Swagger:-
With Swagger losing all the momentum he had just a few months earlier, this match was a lot more competitive than one would expect. That was the huge theme of tonight it seemed, WRESTLING! What a concept. Rollins and Swagger had a competitive but sometimes sloppy match with both messing up during a few spots. Rollins won the match with a roll up and a grab of the singlet, thus scoring the pinfall.
Winner:-
Seth Rollins
Rollins/Orton/Swagger Post Match:-
Randy Orton, who much like Rollins before him came out mid match and proceeded to deliver an RKO to Jack Swagger to send a statement to Rollins. It seems that WWE is slowly teasing an Orton face turn.
Dean Ambrose Backstage Interview:
- Renee Young is backstage with Ambrose who says that he and Rollins are both on a Highway to Hell and that he will be beat John Cena.
Big Show Backstage Interview:
- Todd Phllips is backstage with Big Show who says that tonight, he has no problem carrying the weight of America on his back and knock Rusev out.
Rusev vs. The Big Show:
- Rusev and Lana are out first, and Lana cuts a promo on America, Christopher Columbus, Indians and America. Oh, and to really incite the crowd, she ran down the hometown Atlanta Braves.
This brought The Big Show who came out to a huge pop, courtesy of Lana's huge heel heat. The match began, but Rusev didn't Big Show put a boot in Rusev's face to start and it seemingly knocked him silly for the first half of the match. Big Show even played to the crowd that started doing the Tomahawk Chop as he did his own version of it before landing a big chop to Rusev.
Rusev landed a big dropkick to Big Show, thus changing the momentum of the match. After dominating Show for a prolonged stretch, Rusev was able to lock in The Accolade. As Show was fading, Mark Henry made his way down and tried to hep, only to eat a right hand from Rusev. Henry retaliated by interfering and attack Rusev and disqualifying The Big Show.
Winner:
Rusev (via DQ)
Rusev/Big Show/Mark Henry Post Match:-
Big Show, visibly upset with suffering the loss exchanged words with Henry but both noticed Rusev standing outside the ring, near the announcers table, waving the Russian flag. The two big men proceeded to corner the big Russian and while Henry was taken out, Big Show delivered the knockout punch to Rusev.
Sheamus Interview:-
Sheamus is stopped by
Renee Young backstage saying that having 1 Miz is bad enough, but having 2 is even worse and that he has a plan. 2 brogue kicks.
Sheamus vs. The Miz
:- A short match that saw a lot of comedy from the developing MVP of RAW, Damien MIZdow. imitating the suffering of The Miz. The match ended when the duo of Miz and Sandow confused Sheamus by having Miz sneak under the ring and Damien Sandow distracting Sheamus long enough for Miz to sneak into the ring and win via countout.
Winner:
The Miz (via countout)
Total Divas and Nene Leakes Backstage:-
Corey Graves tweet described this entire segment perfectly.
Who was that big blonde dude arguing with Cameron? #RAW
— Corey Graves (@WWEGraves) October 14, 2014
Summer Rae, Cameron and Nikki Bella vs. Natalya, Brie Bella and Naomo:
- Simply a filler match that didn't completely leave out the Bella Twins on television for the week.
John Cena Interview:
- Renee Young has John Cena backstage who says that the new, young and popular superstar will now face the man who runs the place.
Bray Wyatt "It's Coming" Promo Airs
The Authority make their way out for the main event.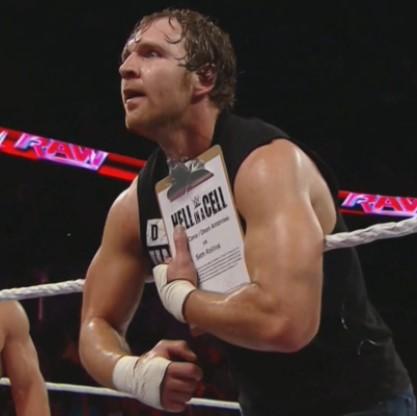 John Cena vs. Dean Ambrose:- No Holds Barred, Contract on a Pole.:-
Seth Rollins, Randy Orton and Kane all make their way out before the match officially starts, thus the entire Authority is ringside for the big main event. The match sees a lot of back and forth offense from the two men as The Authority, that decided the fate of this match looked on. Cena and Ambrose fought to the outside and Ambrose threw the first strike as he threw Cena into Orton, Kane and Rollins. Cena then threw Ambrose into the trio of talent in the Authority. A huge melee ensued as Orton, Rollins, Kane, Cena and Ambrose brawled in the ring. But, while Cena was busy getting rid of Orton, Ambrose climed the ropes and got the contract off the pole, winning the match.
Winner:-
Dean Ambrose
Ambrose and Cena stood in the ring, facing off with Orton and Rollins with no actual physical contact taking place and RAW goes off the air with a fuming Ambrose, holding up the contract he won.
This particular RAW wasn't anything spectacular, but did it put a bigger focus on the actual wrestling. Always a nice thing to see and at least we have a clearer vision of the Hell in a Cell card.
Final Rating:- 7.5/ 10